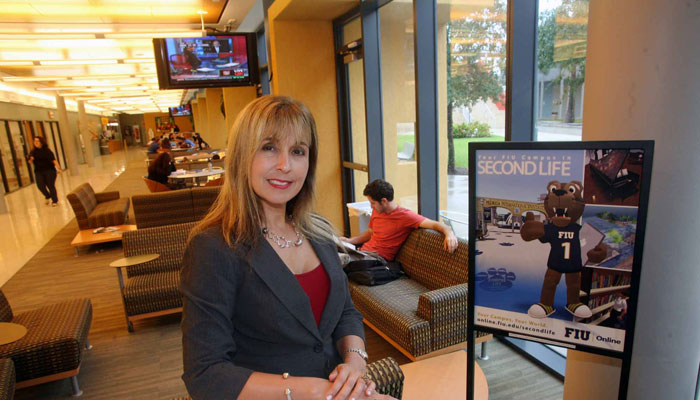 St. Thomas University President Monsignor Franklyn M. Casale has announced a major institutional appointment that will continue to strengthen the University's academic leadership position (www.stu.edu). A visionary and transformational leader in higher education, Irma Becerra-Fernandez, Ph.D., has been named St. Thomas University's new Provost.
"Dr. Becerra-Fernandez brings to St. Thomas University a wealth of knowledge and expertise in higher education, and an excellent understanding of our unique community," said Monsignor Casale. "Her exceptional skills will help us continue to build the University's educational standing and our Catholic intellectual tradition. Irma's many scholarly and community accomplishments truly exemplify the spirit of St. Thomas."
Most recently, Dr. Becerra-Fernandez served as the Vice President, Office of Engagement at Florida International University (FIU). She served in a number of academic and senior management positions at FIU since 1990, and has a broad educational background that spans the fields of engineering, information technology and business. She is an internationally recognized expert in the fields of knowledge management, business intelligence, entrepreneurship, and disaster management, and is known and respected as a "creative innovator" in the design of programs. "St. Thomas University is gaining a star in Dr. Irma Becerra-Fernandez," said FIU President Mark B. Rosenberg. "The partnerships she has created and nurtured at FIU have advanced our mission as a solutions center for our community and I'm sure she will bring the same energy, commitment and intellectual rigor to the office of the provost at St. Thomas University."
During her tenure at FIU, Dr. Becerra-Fernandez succeeded in a variety of complex challenges, from improved graduation rates to donor relations, and increased resource acquirement. She has coordinated various important community partnerships, including the stewardship of the One Community One Goal's Academic Leaders Council. Prior to her employment in academia, Dr. Becerra-Fernandez was an Engineer at Florida Power and Light.
"Great cities deserve great universities and Miami deserves to have the greatest Catholic University in the Southeast," said Dr. Becerra-Fernandez. "Saint Thomas is poised to achieve that vision and I look forward to working with Monsignor Casale, the administration, the dedicated faculty and staff, and our community, to continue providing cutting edge academic offerings that enhance the academic and professional success of our students, while producing ethical leaders for our global economy through our commitment to St. Thomas' Catholic mission of service to our diverse community."