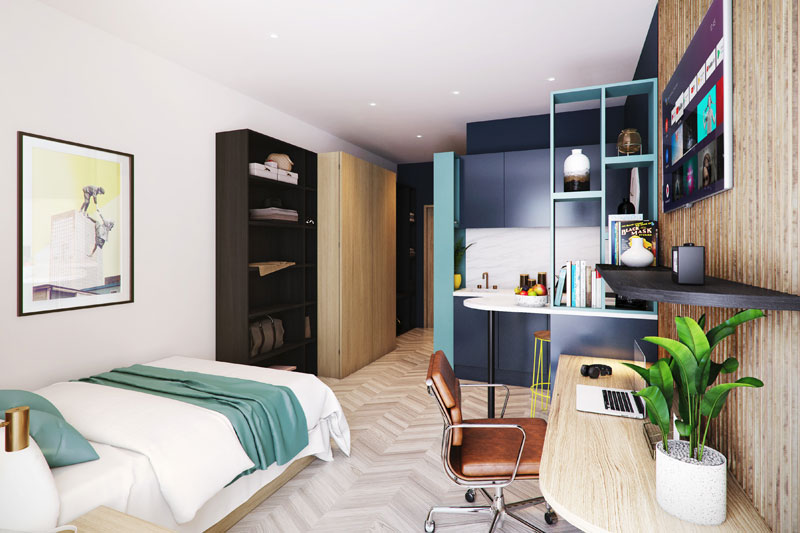 Turkey's first and largest bellwether for purpose built student accommodation (PBSA), UNIVA, has announced a £10 million investment in award-winning UK student property and facility management company Opto Living, forming the UNIVA & Opto Cardiff student housing project.
UNIVA Enters UK Student Accommodation Market
The deal, finalised in February 2020, will see UNIVA makes its first investment into the UK PBSA market through Opto Living with the acquisition of 140 luxury student studio suites in the heart of Cardiff city centre. Opto Property Group will develop and act as the main contractor, while Opto Living will be the operator and facilities manager of the brand-new site under the name of UNIVA & Opto Cardiff.
"We're delighted to have invested with Opto Living to deliver a new standard of accommodation to those studying in Cardiff. With this partnership between our like-minded and forward-looking organisations, we will deliver exceptional student living at competitive prices. Quite simply, students will find that there will be no better place to live in Cardiff."
Rıza Erkanlı, Chairman, UNIVA
The sizeable deal comes at a time when the UK student market is going from strength to strength. According to JLL's latest UK Student Housing Report, market valuation reached £5.2bn in 2019, the second highest year on record. With improved investor sentiment following the December 2019 general election, JLL projects that transaction values could exceed £7.5 billion in the coming year. The longer-term future also looks bright, with 500,000 fulltime students projected to enter the UK's higher education system by 2030. "Student housing is the big Living investment story of 2019, and with some significant new opportunities about to break into the market, we don't expect a slowdown any time soon."
Simon Scott, Lead Director, UK Living Capital Markets, JLL
UNIVA & Opto Cardiff has been "hyper amenitised" so that it provides unrivalled facilities within the city's student accommodation sector. Amenities will include a wide range of sporting and leisure facilities: a basketball court, tennis court, games room, club house, spa treatement room and wellness salon. The upper level features rooftop workstations, sky gardens and a sky bar with BBQ. There's also a private dining room and breakfast bar, and even karaoke!
The development also excels from a practical perspective, with high-speed Wi-Fi, 24/7 CCTV, on-site management and security, a laundry room and a 24/7 reception service.
"UNIVA & Opto Cardiff defines luxury student living. Developed in close consultation with Cardiff City Council, it has been carefully designed to meet the exacting needs of the students at the three prestigious universities in the city. The development centres around the concept of 'Collective Living' as we strive to future-proof the accommodation to meet the needs of the broad spectrum of those living in our building."