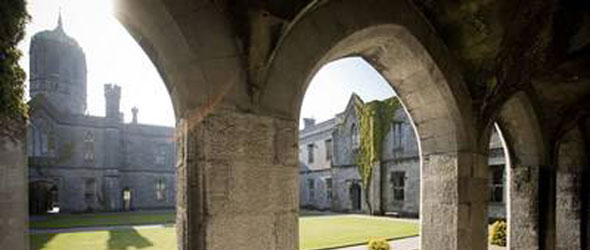 University students interested in studying abroad in Europe now have new program options at top-ranking universities in Northern Ireland and Ireland through International Studies Abroad.
Beginning in spring 2012, International Studies Abroad (ISA), one of the leading study abroad program providers in the United States, will offer programs at Queen's University Belfast and the National University of Ireland, Galway.
"Our programs offer students the opportunity to explore a different side of the Europe," said Jimmy Brazelton, ISA Coordinator of New Program Initiatives. "Students who study in Ireland or Northern Ireland will take courses with locals at renowned universities while immersing themselves in traditional Irish culture."
In addition to offering courses in Irish Gaelic, the programs feature student excursions to destinations such as Dublin, Cork, Waterford, Wexford, County Antrim, and Londonderry, to name a few, all led by on-site ISA staff members.
"As we gear up for ISA's 25th anniversary in 2012, we're excited to add Ireland and Northern Ireland to our growing list of study abroad locations," said Arturo Artaza, Executive Vice President of University Relations and Marketing. "We're pleased to be leading the field with on-site resident staff to support students in both Belfast and Galway."
Queen's University Belfast, founded in 1845, is the largest higher education institute in Northern Ireland and is recognized as one of the UK's 20 leading research universities. From Accounting to Women's Studies, ISA students can choose from over 3,000 courses in 100 different subject areas to fulfill academic credit requirements while abroad.
National University of Ireland (NUI), Galway, founded in 1845, is a leader in research and teaching. Hosting more than 100 student societies and sports clubs, NUI Galway encourages the integration of international students throughout the entire campus. ISA participants can join any of these student organizations or the university's popular volunteer program to enrich their experience abroad.
For close to twenty five years, International Studies Abroad (ISA) has provided college students in the United States and Canada the opportunity to explore the world. ISA offers a wide variety of study abroad programs at accredited schools and universities in Argentina, Belgium, Brazil, Chile, China, Costa Rica, Czech Republic, Dominican Republic, England, France, India, Ireland, Italy, Jordan, Morocco, Northern Ireland, Panama, Peru, South Korea and Spain.